Through the project Widening the norm in practice:
• we draw attention to the widespread discrimination on the labour market against swedes who are non-white
• we raise awareness on how to counteract discrimination on the labour market.
Our purpose is to promote equal regional growth in the Stockholm region. Furthermore, there is a lack of representation of the population in the county´s organizations. This is problematic in several ways, but essentially in terms of legitimacy. If organizations fail to reflect the population, will they be able to serve as representatives of the population?
Together with employers in the region, we are now increasing knowledge and awareness of restrictive norms regarding skin colour. We do this by educating, measure outcomes and take actions to address both horizontal and vertical structural discrimination.
Widening the norm in practice educates employers and their employees to develop their skillset on restrictive norms regarding skin colour. We reflect on our own organization and culture: Is it inclusive or exclusive? How can we communicate inclusively? The employees who take part in the training will also strengthen their employability.
The project started on 1 September 2018 and runs until 2021.
During the project, we have examined all participating organizations in their current work on inclusion, both in terms of knowledge and organization.
Thereafter, we have analysed and given recommendations on how active measures can be strengthened. From there on, we have worked together with the purpose of raising the skillset of the employees regarding active measures.
Widening the norm in practice is the first initiative of its kind – even though the legislation on discrimination states that all employers with more than 25 employees must work with active measures to counteract discrimination based on skin colour.
Contact us at the Stockholm County Administrative Board if you want to know more.
Publications in English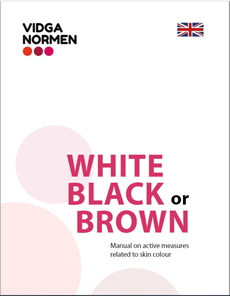 WHITE, BLACK OR BROWN – MANUAL ON ACTIVE MEASURES RELATED TO SKIN COLOUR
This is a handbook that shows how to work to promote inclusion, in terms of skin color, in the workplace. The handbook is a help both for organizations that are prepared to live up to the law by working inclusively around skin color and for everyone who is curious and just wants to learn more.
---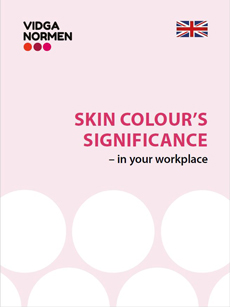 SKIN COLOUR'S SIGNIFICANCE – IN YOUR WORKPLACE
This publication provides guidance to employers, trade union representatives or employees in the work against skin colour-based discrimination in the workplace.
The text provides an introduction to the subject of highlighting common resistance that can be met along the way in the work against skin colour-based discrimination in the workplace. You will also get tips on how to take the conversation further and avoid getting caught up in the resistance.
---